2023 Evening of Hope – Honoring all trustees throughout our 47-year history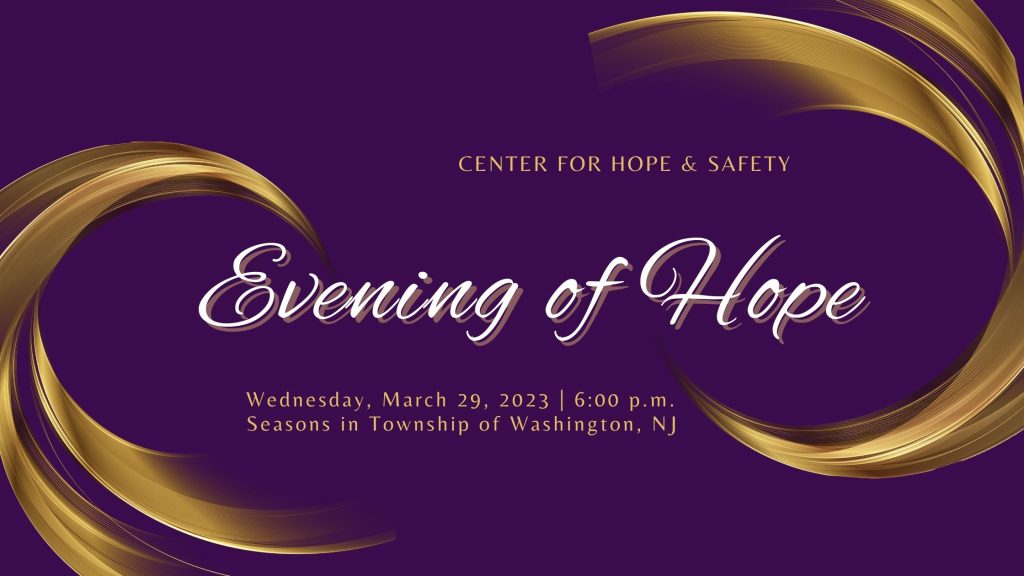 Martin Luther King Jr. said, "Life's most persistent and urgent question is: 'What are you doing for others?' "
The desire to help others, to make a difference, is a persistent and urgent motivation for all who choose to volunteer. For the volunteers who serve on the Center for Hope & Safety Board of Trustees, it is an opportunity to support and energize the mission of an organization doing vitally needed, life-saving work in the Bergen County community.
As we come together in person once again for Center for Hope & Safety's Evening of Hope, we celebrate the spirit of service and offer a heartfelt thank you to all Trustees who have given generously of their time and talents throughout the agency's 47-year history.
Elaine K. Meyerson, who served as Executive Director for 30 years (1986-2015), notes that Trustees "are some of the most caring and committed individuals. They all join the Board with a determination to make life safer for victims of domestic violence and to provide them with opportunities that potentially will change their lives. I want to personally thank all of our Trustees for their positive influence on the lives of Bergen County's families who have rebuilt their lives after experiencing abuse."
The Board develops policies, guides the financial health of the organization, engages in long-range planning, and works closely with the Executive Director to set goals and evaluate performance every year. For most people, serving on the Board is a long-term commitment, an immersion in the purpose and promise of the agency. Trustees can serve up to nine consecutive years, and many have chosen to do so.
They are citizens from all walks of life—social workers, educators, communicators, public officials, attorneys, accountants, business owners and corporate executives—as well as former clients. Gail Steinel, who has served as President, Vice President and Treasurer, views fellow Board members as a diverse group of community-minded people who are "committed to the cause for all the right reasons." They draw strength and inspiration from the dedication and passion of Center for Hope & Safety's professional staff and the courage and perseverance of clients.
Beyond the official job description, Trustees get involved in many other ways, walking the walk as well as talking the talk. They'll show up to lend a helping hand whenever needed, attending and sponsoring events like the annual Walk Together Against Domestic Violence, Golf Outing, and Evening of Hope. The best gig ever, according to one former Trustee: flipping burgers at the annual picnic for former clients and their kids, a warm and welcoming family reunion of survivors.
"Trustees have been instrumental to the evolution of Center for Hope & Safety," says Julye Myner, now in her eighth year as Executive Director. "Their strong commitment to our mission, devoted leadership and keen oversight have steadily steered CHS to continuously enhance services for victims and survivors of domestic violence."
Ask anyone who has ever served on the Board, and they'll tell you what an honor and privilege it is. It is now our honor and privilege to celebrate the diligent work and caring spirit of our volunteer Trustees—past, present and future.