Because of the support and donations of individuals, groups, and businesses, we at Center for Hope & Safety can provide shelter, healing, and empowerment to adults and children in Bergen County, NJ who are victims and survivors of domestic violence. We cannot continue doing this life-saving work without the help of community members and partners spreading the word about domestic violence awareness and prevention.
Please join us in the fight to end domestic violence.
What You Can Do
INVEST IN OUR CAUSE
What does Center for Hope & Safety do?
Founded in 1976 as Shelter Our Sisters, Center for Hope & Safety provides support and resources to those who have experienced domestic violence in Bergen County. We provide a full suite of services—residential, counseling, legal and economic empowerment—to enable victims to become survivors and heal from the trauma they have experienced. We serve all gender identities and ages. Victims can call our 24/7 hotline (201) 944-9600 even if they aren't ready to leave an abusive situation.
Important facts to know
We operate an emergency shelter (Safe House) in a confidential location in Bergen County that has a capacity for 40 individuals.
We have 4 transitional homes.
We are the only domestic violence agency in Bergen County offering free in-house legal services with staff attorneys for domestic violence victims.
All our services, including our legal services, are completely free.
We help victims who may still be living with their abusers create a safety plan for when they are ready to leave.
We serve men impacted by intimate partner violence.
Once a client, always a client! We are still a resource for anyone we have served no matter how long ago they turned to us for help.
In 2022, we served 1,700 clients. Find more 2022 statistics in our Impact Report.
Support our mission
Monetary gifts are accepted via credit card, Venmo, PayPal, and check. See all the ways we accept monetary donations.
In-kind donations of non-perishable food, cleaning supplies, toiletries, menstrual pads, diapers, socks, underwear (sizes toddler through teen and adult), grocery gift cards, gas and Uber/Lyft gift cards are much appreciated.
Run a donation drive – email our Development department to find out what is in most need by our clients.
Organize a fundraiser/charity event and donate proceeds to Center for Hope & Safety. Email the Director of Development for more details.
RAISE AWARENESS
Stop by our office (please call ahead at (201) 498-9247) to pick up brochures, flyers, or postcards to distribute in public places such as libraries, doctor's offices, stores, etc.
Read about our impact in Bergen County from our latest report and share the report with others in your community.
JOIN OUR EVENTS
Throughout the year, we host several fundraisers and other events for bringing awareness about domestic violence in Bergen County. Please keep our events below in mind and join us. Invite anyone you think would be an advocate and supporter of our organization's work.
| | |
| --- | --- |
| Evening of Hope | March |
| Annual Golf Classic | June |
| Sip for Safety Wine Tasting | September |
| Light Up the Night Against Domestic Violence | October (Domestic Violence Awareness Month) |
| WALK TOGETHER Against Domestic Violence | October (Domestic Violence Awareness Month) |
There are also opportunities to participate as a sponsor at our fundraising events, so look out for more information on our website closer to the event date, or join our email list and follow us on social media for the latest updates.
STAY INFORMED
Sign up to receive our emails and forward to family and friends asking them to support Center for Hope & Safety.
FOLLOW US ON SOCIAL MEDIA
Never miss our updates! Follow us as a Favorite or click on the Bell icon to be notified when we post:
Facebook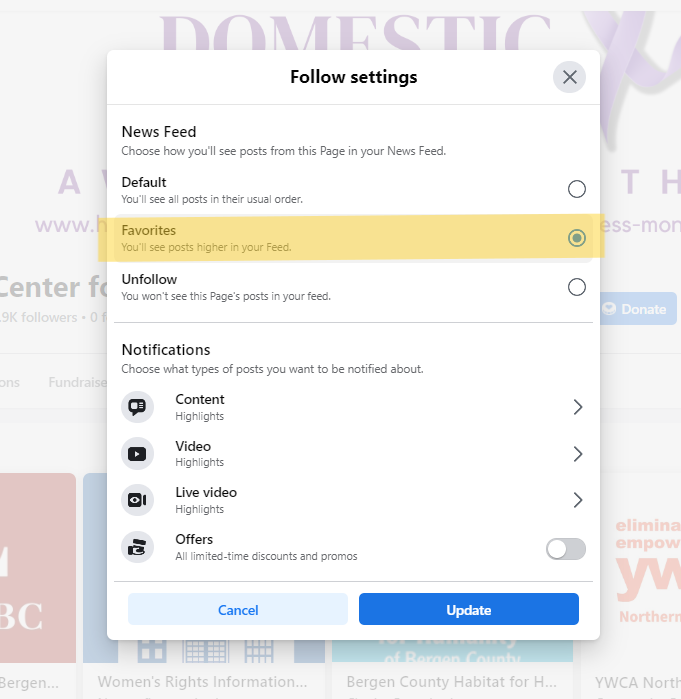 Instagram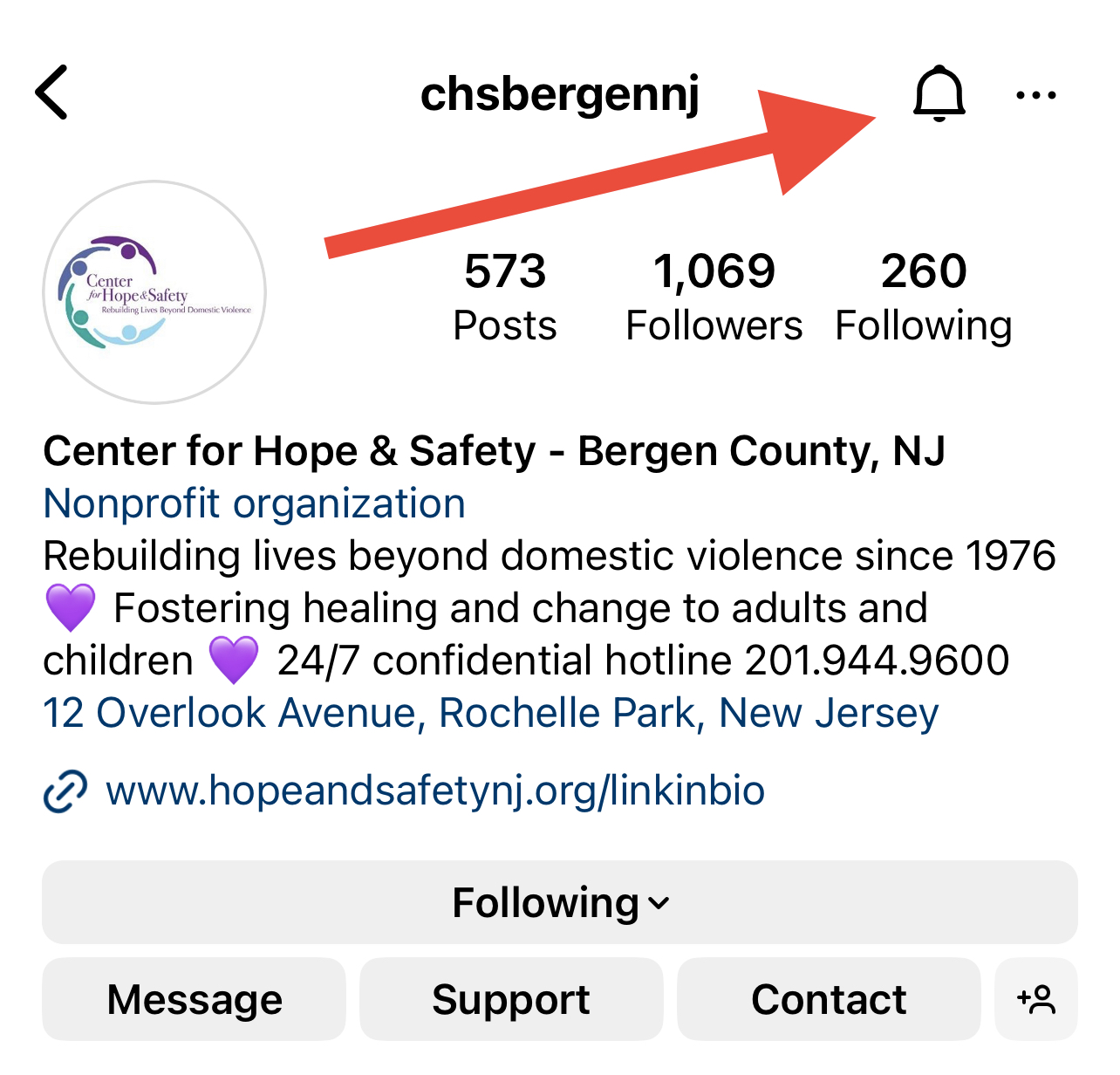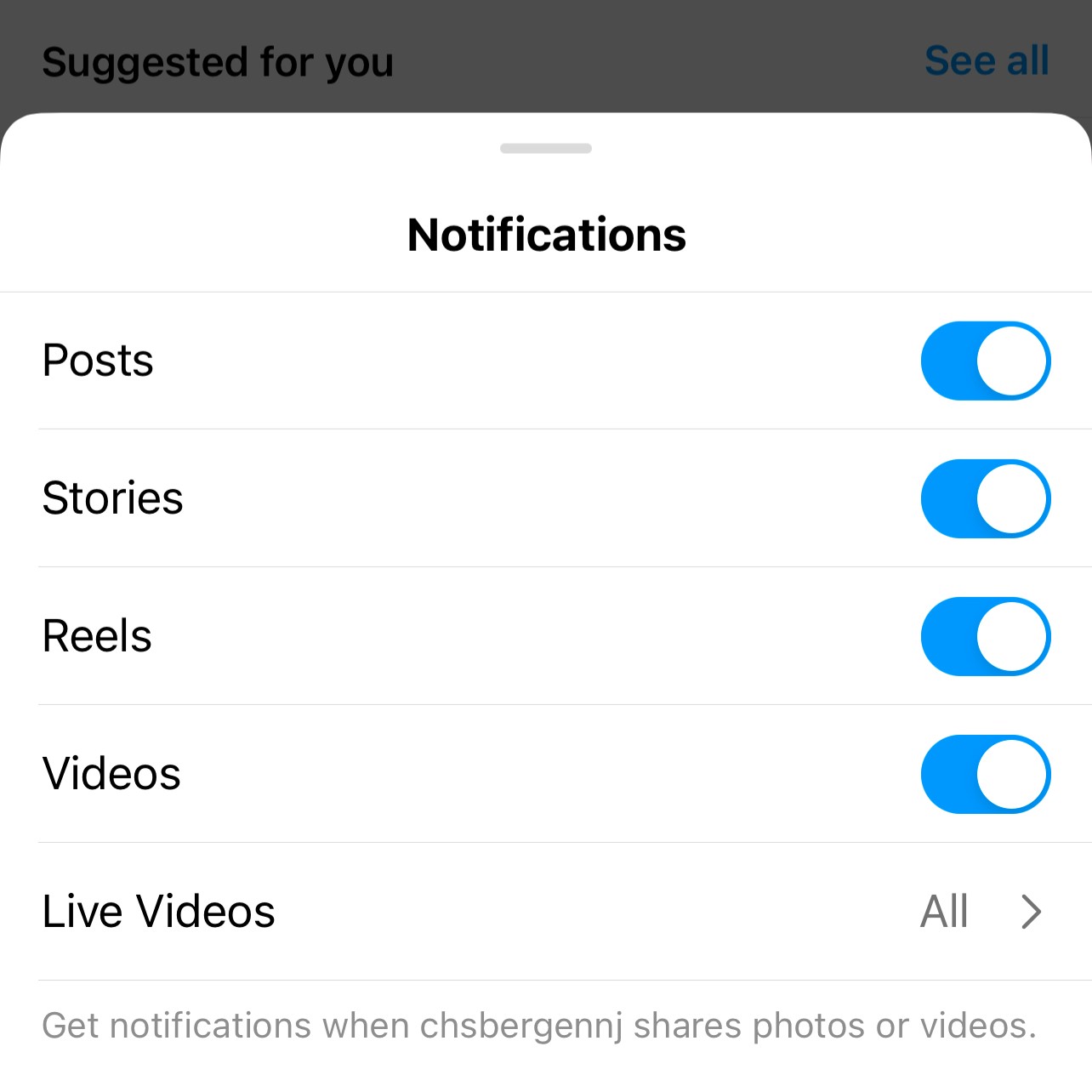 LinkedIn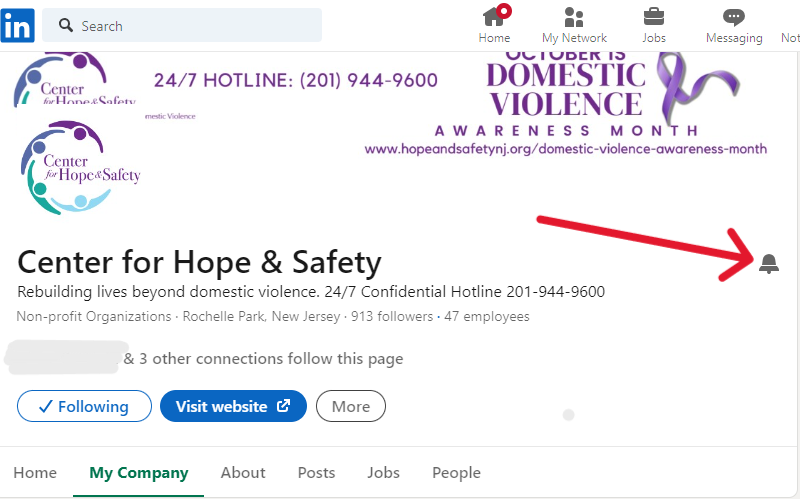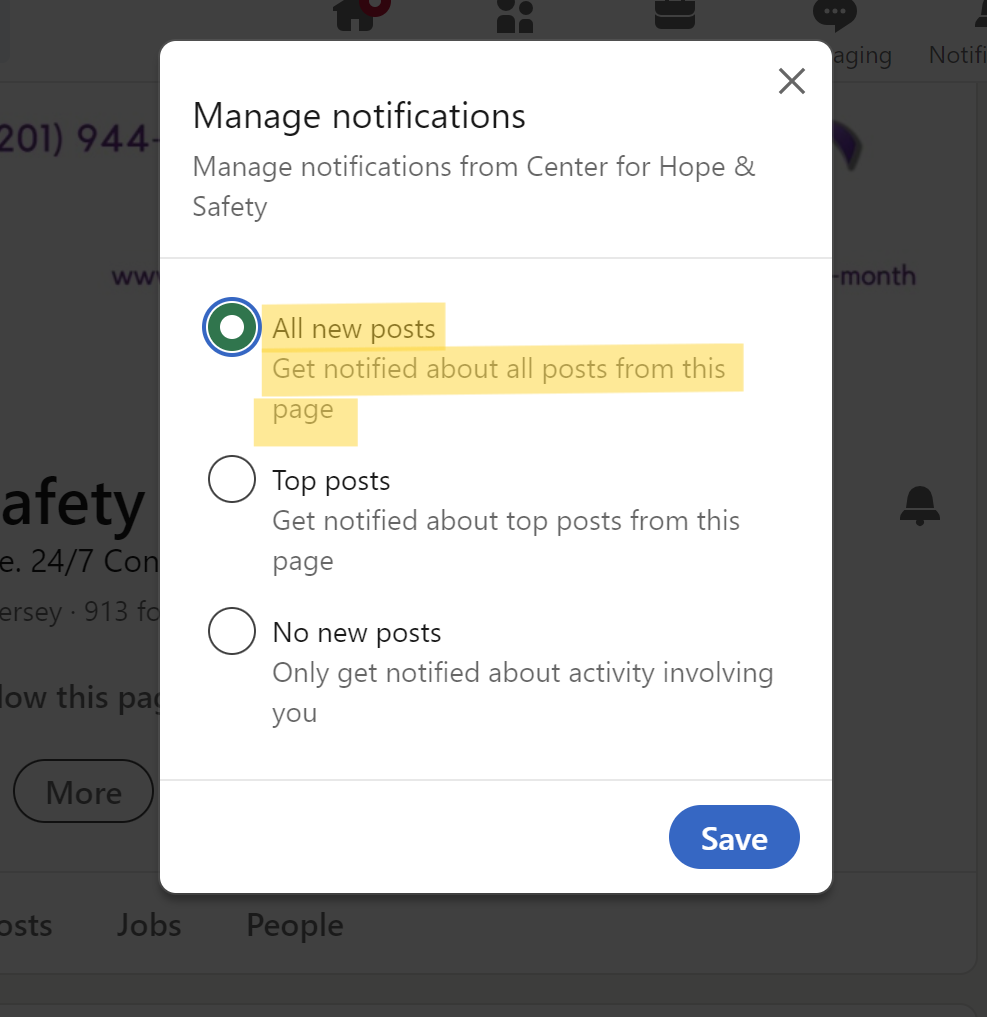 X/Twitter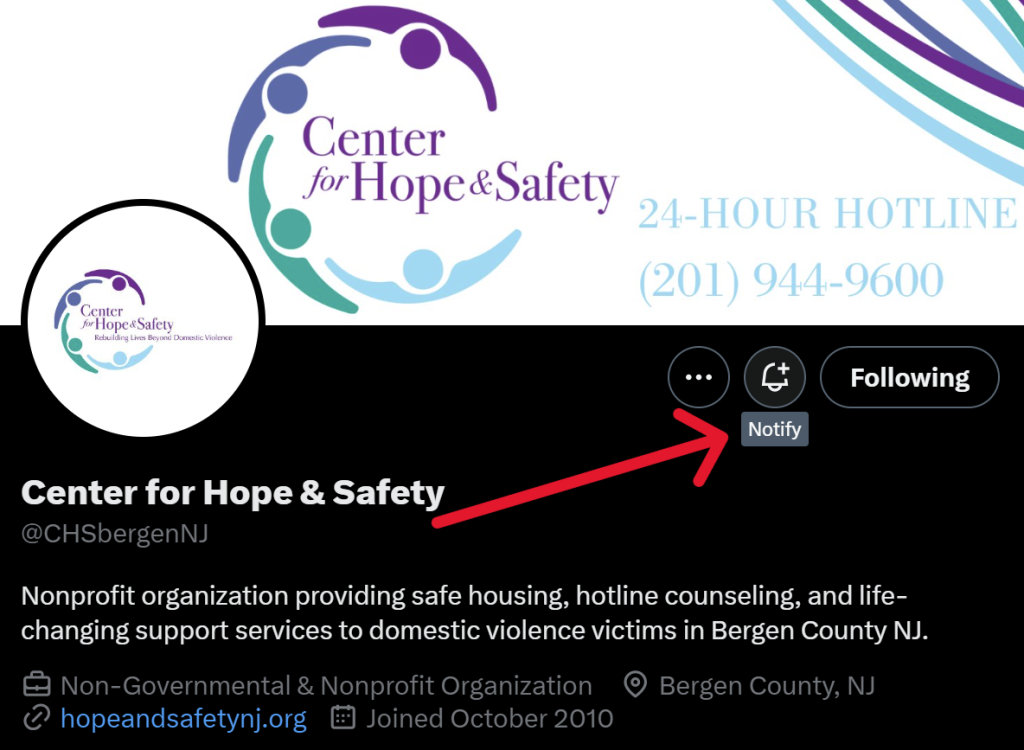 YouTube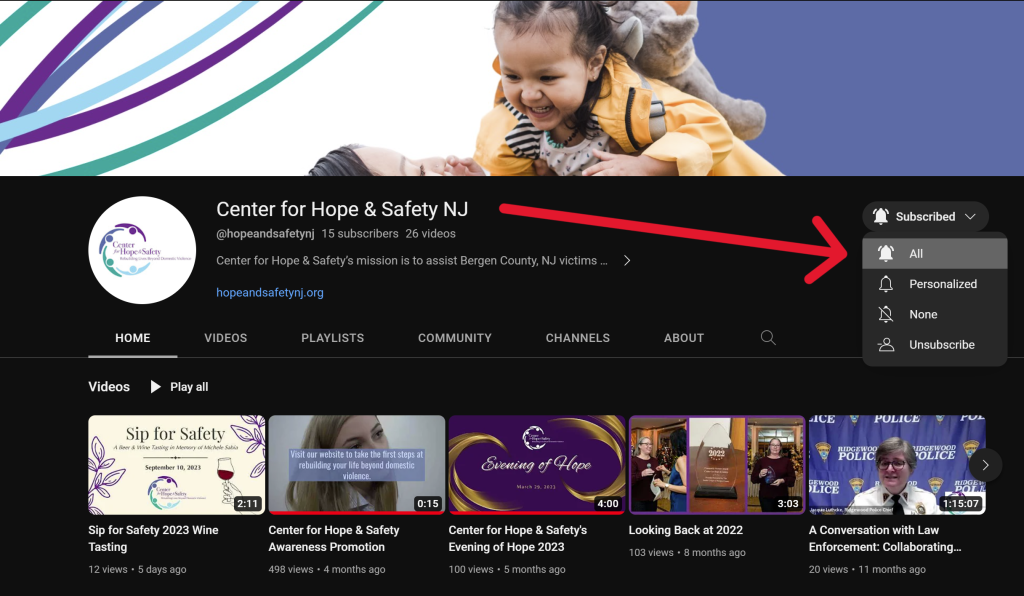 LIKE, COMMENT, AND SHARE OUR POSTS
Liking, commenting, and sharing our posts will help increase visibility among our followers as well as reach a wider audience beyond those following us, so engage with our content whenever we post.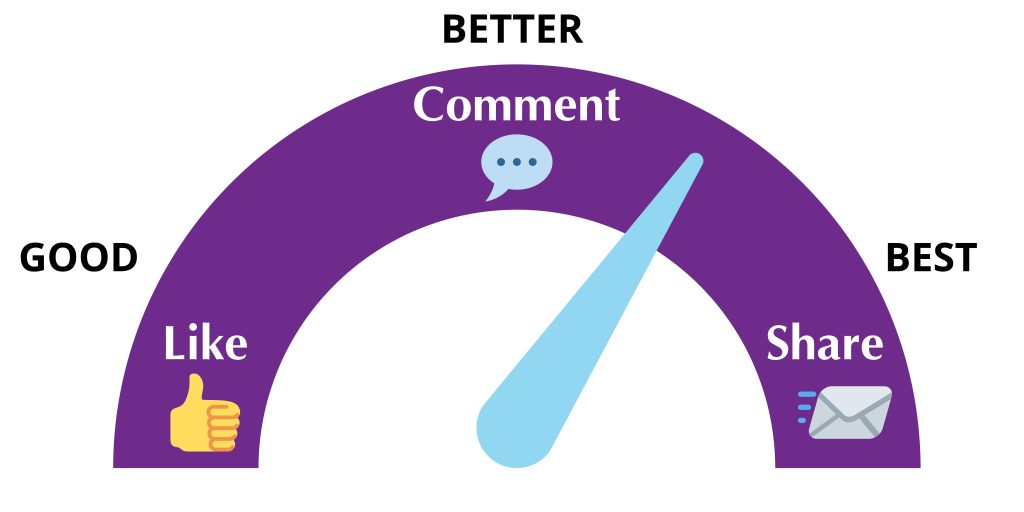 When you share/repost, you will increase the chances of someone seeing the post you share by writing a short, personalized sentence or two explaining why Center for Hope & Safety's post is meaningful to you, so select "Share to Feed" and "Repost with your thoughts" to add your customized text.
You can also share our post to any local or professional Facebook groups you belong to, as appropriate, especially for our fundraising efforts. For example, town and social groups are ideal for spreading the word about registering for our events, and business networking groups are a great place to mention opportunities for sponsorships.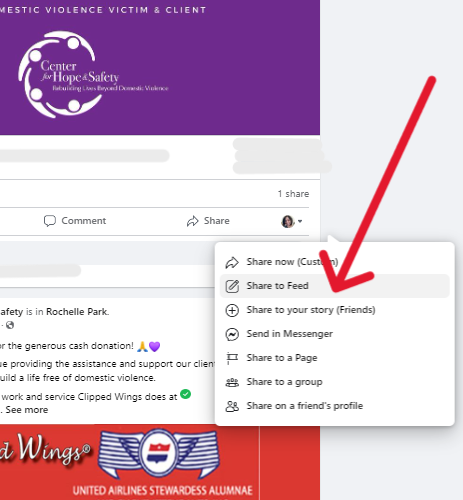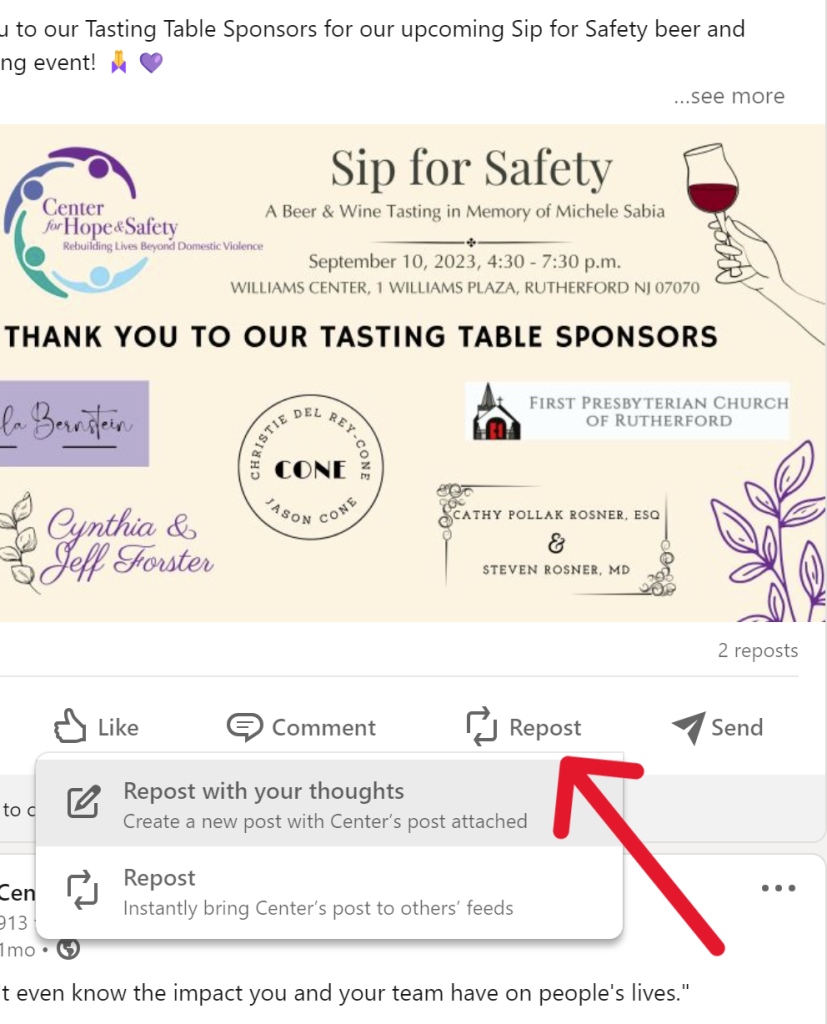 RSVP TO OUR FACEBOOK EVENTS
Keep an eye out for when we add events on Facebook and indicate whether you are a "Going" or even "Interested". When you engage with our event post, that increases our event's visibility and reach because it increases our response volume (even if just "Interested") as well as shows up in your Facebook friends' feeds.
Also click on the Invite button to share with your Facebook friends in a direct message, or click on the Forward arrow button to copy the link to share in an email or SMS message.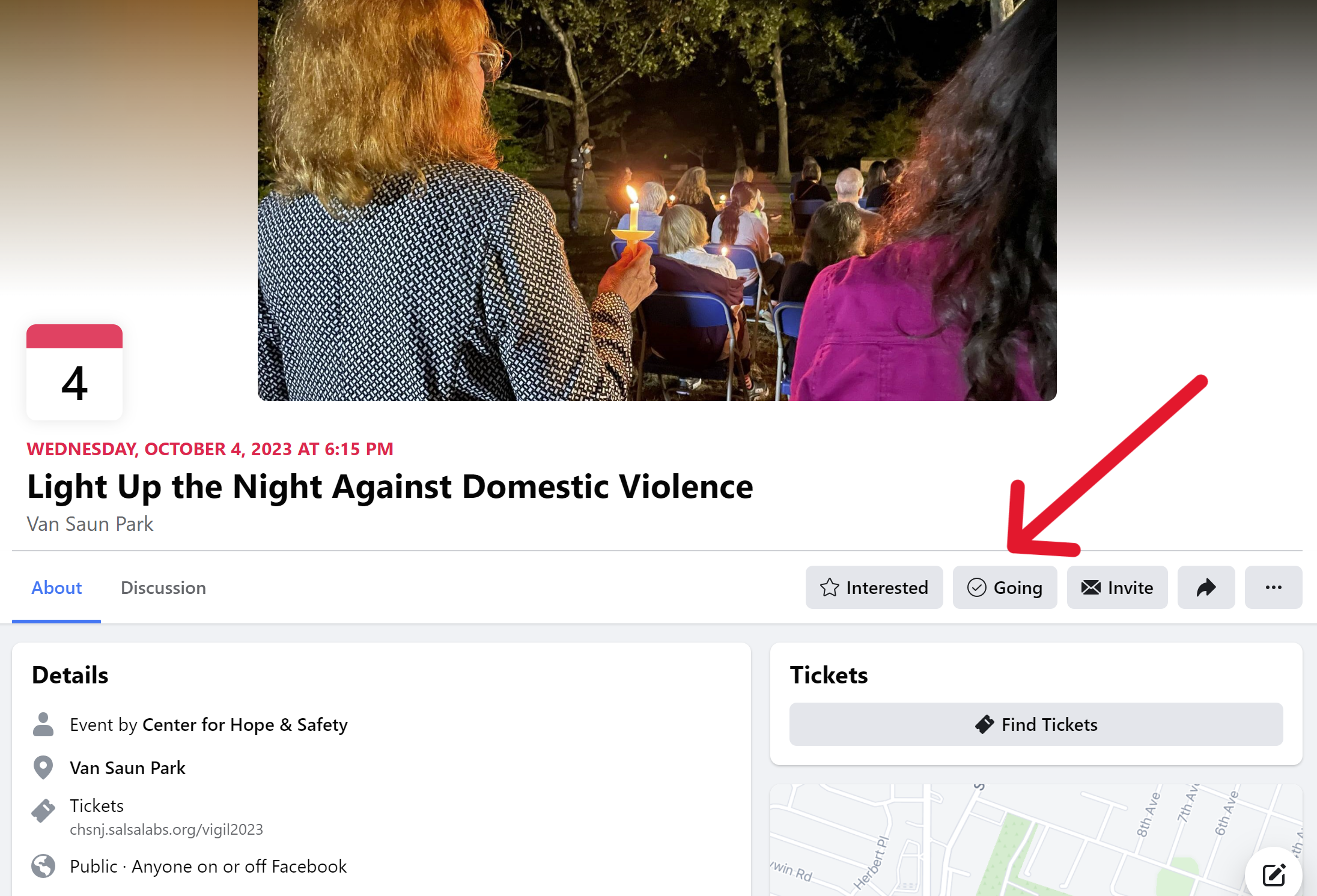 CREATE YOUR OWN POSTS USING OUR SOCIAL MEDIA TOOLKIT
Use our social media graphics and posts from our Social Media Toolkit to support Center for Hope & Safety. Don't forget to tag us @hopeandsafetynj (Facebook and LinkedIn) or @chsbergennj (Instagram) and add your location as Center for Hope & Safety (in Rochelle Park, NJ).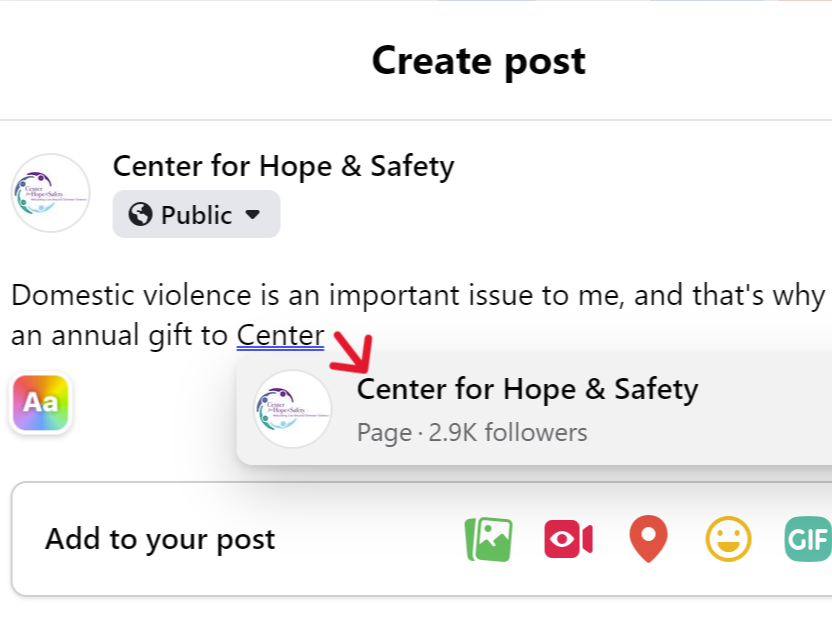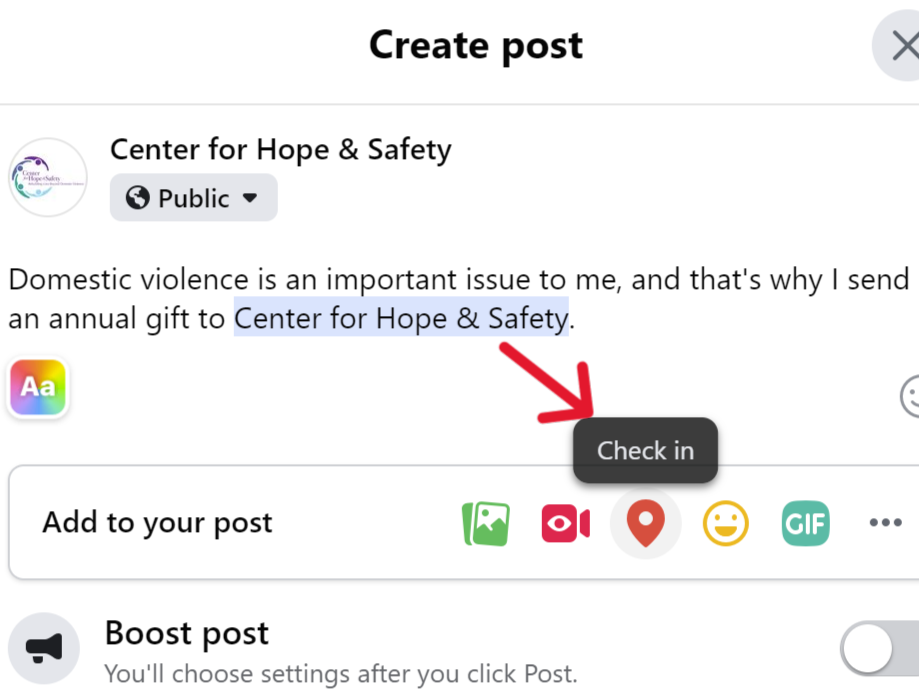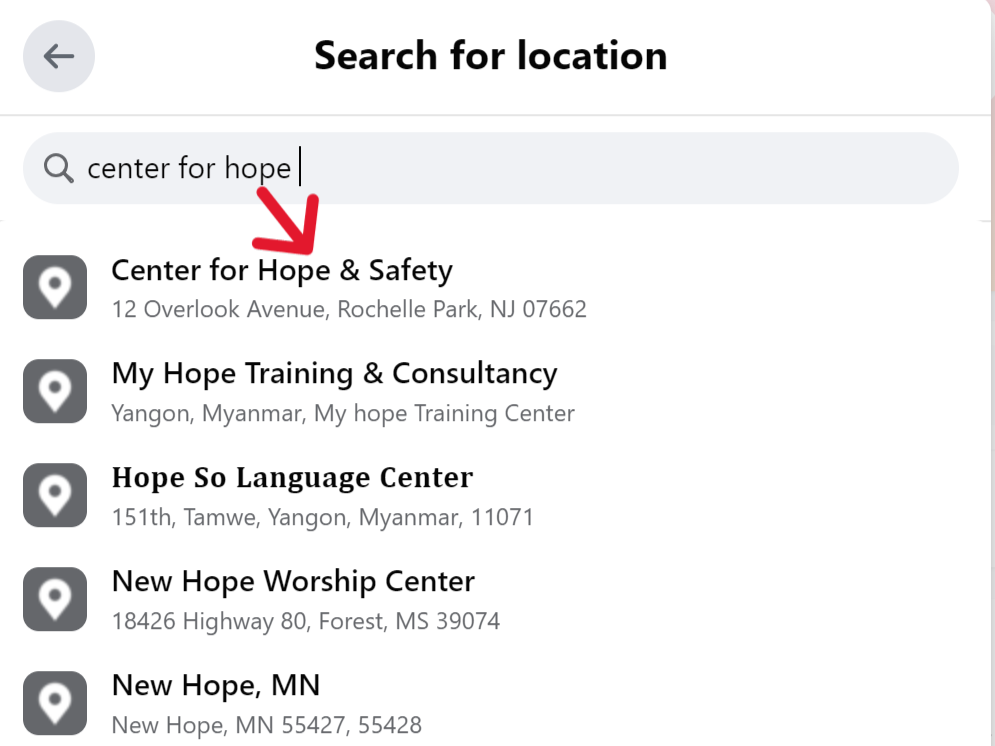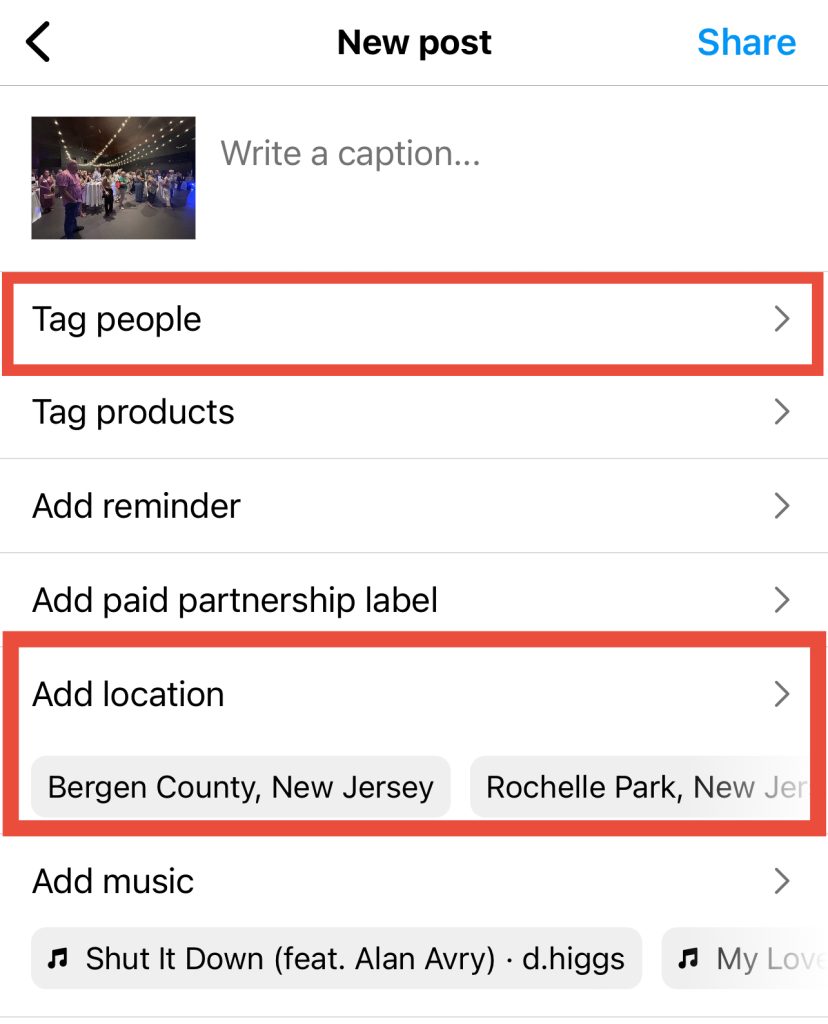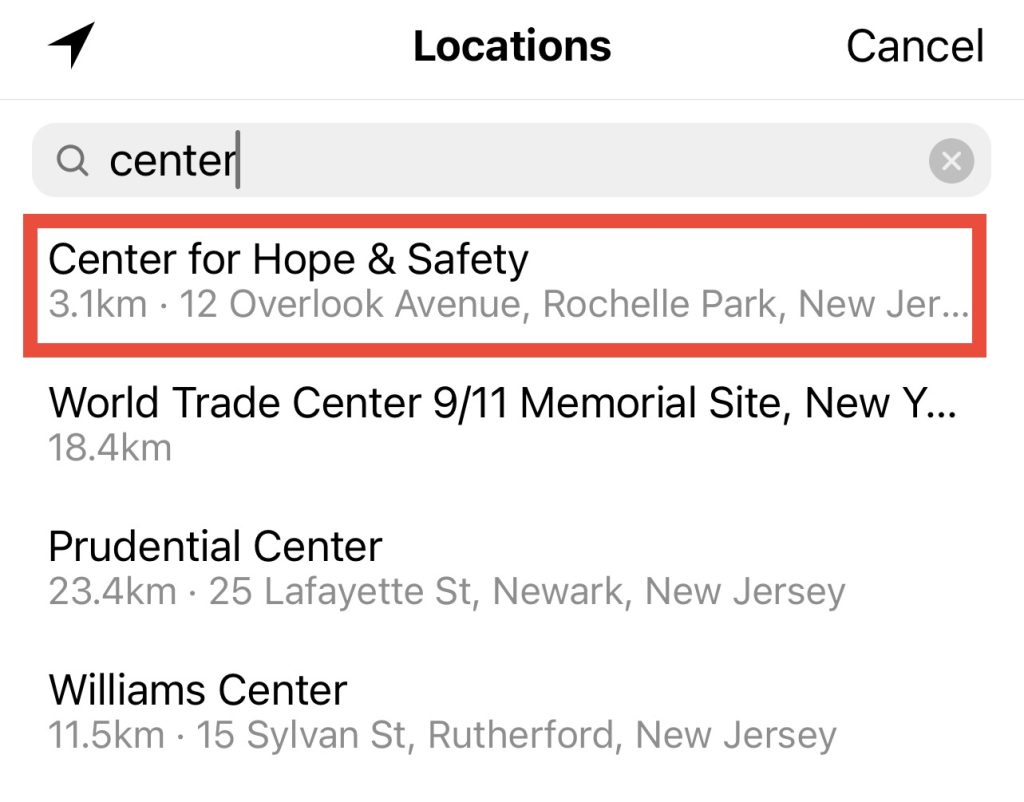 START A FUNDRAISER ON FACEBOOK
Create a fundraiser on Facebook for Center for Hope & Safety and ask friends to donate. (Like on your birthday!) Get started at
www.facebook.com/fund/hopeandsafetynj
START A FUNDRAISER ON INSTAGRAM
You can create an Instagram fundraiser for Center for Hope & Safety in any of the following ways:
On your profile, tap the Create icon "+" on the top right. Select FUNDRAISER and choose Center for Hope & Safety. Fill in the details, tap ADD and the tap SHARE. Invite Collaborators on your fundraiser to reach even more people.
You can also go to our profile @chsbergennj and click on the SUPPORT button.
Create a Story and add the Donation sticker. Share and send your Story to your followers via Direct Message.
Create a Reel and click on Add Fundraiser on the final screen right before you share.