Stories of Hope: Elena's Story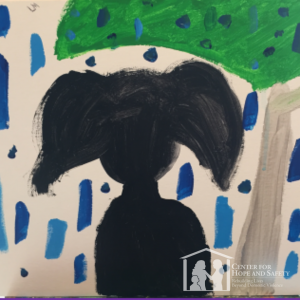 Ten-year-old Elena entered the Emergency Safe House at Center for Hope & Safety with her mom and two younger brothers, Leo and Christopher. She had left her home suddenly, along with the nearby support of her grandparents, aunts, uncles and cousins. She also really missed her best friend, Kayla, who she could always count on when she was going through a tough time at home.
Elena had spent her entire life in the same house and community. She was sad and confused, and couldn't figure out why her father was so incredibly abusive to their mom. Finally, her mom said that they had no choice but to leave. They had to travel to another state to feel safe.
Elena thought about the possibility that if she and her brothers had behaved better, perhaps her father would not have been so angry and violent. But Marta, our Director of Children's Programs and Art Therapist, assured her that none of this was her fault or her siblings' or mom's.
Elena painted the top picture shortly after entering the shelter with her mom. A little girl standing under a waterfall of teardrops expresses her extreme sadness.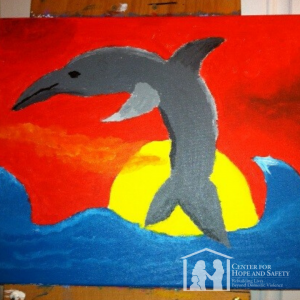 Elena slowly began to realize she and her mom and brothers were safe now, and that her job was to be a child and not the caretaker of her family. She began doing better in school, made new friends and was even able to visit her grandparents.
The joy and freedom expressed in Elena's dolphin painting illustrates without words the significant change in her feelings toward the end of her stay at the Safe House. Elena entitled it "Free to Be." The dolphin's flight out of the water is a poignant expression of her feelings of freedom from the sadness she felt in the earlier painting, as well as the hope for a violence-free life with her mom and brothers.
Support our Time of Hope Challenge
Center for Hope & Safety is committed to ensuring that safety and support is only a phone call away, 24 hours a day, 7 days per week, for the adults and children who seek refuge from domestic violence.  We need your support to make that happen. Please make a gift to our Time of Hope Challenge and help keep our doors open to those who need refuge from domestic violence during this difficult time and throughout the year. Thank you.