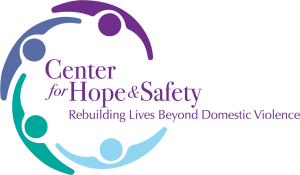 Center for Hope & Safety's mission is to assist adults and children throughout Bergen County, New Jersey, who are victims of domestic violence, including emotional, economic, sexual, and physical abuse.
---
Call our HOTLINE 24 hours a day, 7 days a week (201) 944-9600
or text LOVEIS to 22522.
---
---
News/Press
Ways to Identify and Assist Domestic Violence Victims – ROI-NJ.com 1/4/2023
Surge of domestic violence reports expected during holidays – NJ Spotlight News 12/29/2022
Anticipated spike in domestic violence calls for January – New Jersey 101.5 12/26/2022
"More domestic violence victims finding refuge in N.J. hotels as calls for help rise" – NJ.com 12/03/2022
Provident Bank Foundation Grants $20,000 to Center for Hope & Safety
Candlelight vigil coverage – TAPintoParamus, 10/14/2022
"Breaking the chains of domestic violence" – NJ Spotlight News 10/10/2022
Art of Survival Reception – northjersey.com 10/7/2022
Bergen County Events for October's Domestic Violence Awareness Month – Patch.com 9/23/2022
Michele Sabia's story "Peter & Jackie Miragliotta: The Spirit of Love Unfolds Them After a Family Tragedy" – Autumn Years Magazine, Summer 2021
---
Past Events
---
PAIR Studies, Arizona State University
We've partnered with the PAIR Studies team at Arizona State University for an important study that can help our communities. Please read, share, and participate! CLICK HERE to let researchers know you are interested.
---
More About Center for Hope & Safety
Center for Hope & Safety | 12 Overlook Avenue, Rochelle Park NJ 07662 | (201) 498-9247 | 24/7 HOTLINE (201) 944-9600